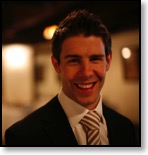 Dr. Warner has a unique skill set that allows him to treat a wide variety of conditions. He strongly believes in evidence based care that not only alleviates the current issue, but addresses the underlying cause in an effort to prevent future recurrences and improve overall health.


A hockey injury that wasn't resolving with rest and anti-inflammatories first lead Dr. Warner to see a chiropractor. The natural, preventative approach that encouraged rehabilitation first opened his eyes to the benefits of this type of care.

He followed his interest in the human body and studied biology at the University of Waterloo, and then chiropractic at the Canadian Memorial Chiropractic College, where he was fortunate enough to win several awards upon graduating.

His interest in sports and a desire to treat athletes lead him to study and train with some of the most advanced treatment options currently available. Dr. Warner is certified in Active Release Techniques, medical acupuncture and SpiderTech taping which he uses in practice along with joint mobilizations and exercise rehabilitation to help treat, and prevent injuries.


Education:
Awards:
Ontario Chiropractic Association Award

Board of Governor's Chair Award

Chiropractic Sciences Award